With Tet holiday just around the corner, Toyota Vietnam initiates material insurance, pre-registration fees support for buyers of Fortuner, Innova and Altis.
On 3/1/2019, Toyota Vietnam announced their program of incentives for customers during Tet holiday. According to which, customers who fulfill purchases of Toyota Innova, Toyota Corolla Altis or versions of the Fortuner 2.8AT 4×4, Fortuner 2.7AT 4×2 TRD, Fortuner 2.4AT 4×2 and Fortuner 2.4MT 4×2 will receive a registration support with 1 year of free insurance and services. It is informed that fees for registration stands at 30-40 million VND depending on model and variation. The promotion will be active from 03 to 31/1/2019.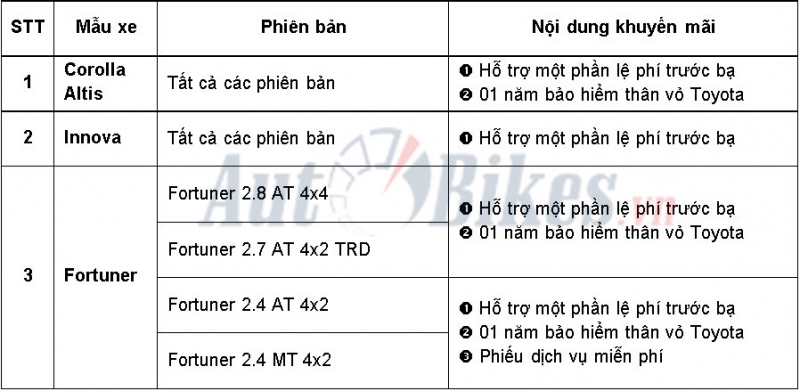 The aforementioned incentive has not included agencies' promotions. Therefore, this is like the lowest promotion rates for said models. In practice, agencies have full rights to offer better ones depending on business status and market developments.
Corolla Altis is a C-class sedan first introduced in 1996 with over 23 years of development in Vietnamese market, 10 upgrades and revisits. Up to now, the model has registered a sales figure of 75,000 units. Corolla Altis consists of 5 variations at 697 million VND for version 1.8E MT; 733 million for 1.8E CVT; 791 million for 1.8G CVT; 889 for version 2.0V Luxury and 932 million for 2.0V Sport.
Version 1.8L gives a power of 138 HP and 173 Nm max torque, while version 2.0L gives 143 Hp and max torque stands at 187 Nm. Aside from version 1.8E MT which employs 6-speed manual gearbox, the rest use no-level ones with 7 virtual levels and an additional sport mode.
Fortuner and Innova were respectively introduced to Vietnam in 2009 and 2006. Right on their debut, these models were highly favored and since then had been holding top positions in the segment of SUV and mid-sized MPV while often making appearances in best-selling charts. Up to now, cumulative sales of Fortuner reaches over 90,000 units and that of Innova is 135,000.
Fortuner employs sporty elegance and strong terrain-friendly capabilities whereas Innova comes with modern aspects and the most spacious interior in the 7 or 8-passenger models, posing a great choice for family usage. Both are equipped with advanced safety features that meet the 5-star requirements of ASEAN NCAP, giving a sense of comfort and reassurance for customers on every mile.
Fortuner is currently distributed under 5 variations with the following listed price: 1.033 billion for version 2.4G Diesel 4×2 MT and 1,096 billion for 2.4G Diesel 4×2 AT; 1,150 billion for 2.7V Gasoline 4×2 AT; 1,236 for 2.7V gasoline 4×4 AT and 1,354 2.8V Diesel 4×4 AT.
On the other hand, Innova has 4 variations for sale: 771 million for version 2.0E; 847 million for 2.0G; 878 million got Venturer and 971 million for version 2.0V